Drivers who wish to buy themselves a car that scores excellently in terms of fuel efficiency, spacious cargo space and performance should consider the 2019 Honda Fit or the 2019 Toyota Corolla Hatchback. Both models have many similarities and uniqueness at the same time. The 2019 Honda Fit, for instance, comes with a Continuously Variable Transmission with Sport Mode and Dual-Mode Paddle Shifters while the 2019 Hatch boasts a CVT without paddle shifters or sport mode. Both tech-savvy vehicles are designed for a comfortable ride, endurance and durability depending on their drivers. Their versatility, reliability, overall comfort, advanced technology, and safety leave many car buyers undecided on which particular car to purchase.
Let's have a closer look at the differences between the 2019 Honda Fit and the 2019 Toyota Corolla Hatchback below:
Overview
The 2019 Honda Fit is not only budget-friendly but comes with imposing features. The front- wheel-drive 2019 Fit has a 1.5liter four-cylinder engine with 130horsepower paired with a Continuously Variable Automatic transmission or a six-speed manual transmission. The 5-seater capacity vehicle has a roomy upscale cabin, agile handling, impressive safety features and rides comfort that many in its class cannot rival.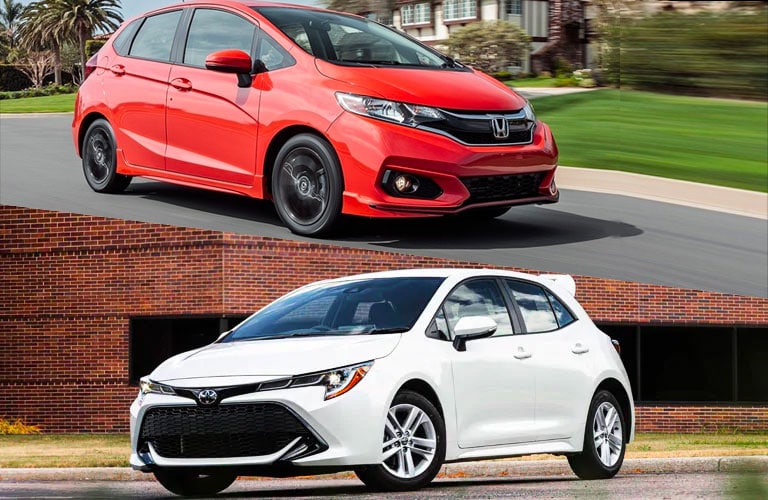 Comparison between the 2019 Honda Fit Vs the 2019 Toyota Corolla Hatchback
Performance
Don't be fooled by its mid-sized body, the 2019 Honda Fit has a 1.5liter four-cylinder engine generating 130 hp and 114 pound-feet of torque under its small sloped hood. It's available in two options: a Continuously Variable Transmission (CVT) or a six-speed manual transmission. The interesting thing is that the EX, EX-L and the LX CVT trims can comfortably generate 174 horsepower on top of 162pound-feet of torque while the sports versions either in a six-speed manual transmission or CVT can make a whopping 180 horsepower surpassing the 168 horsepower generated by the 2019 Toyota Corolla Hatchback.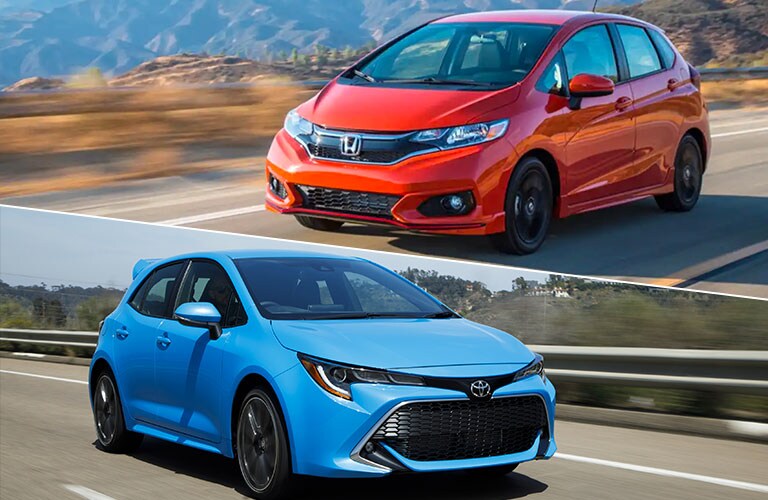 The beauty of buying the 2019 Honda Fit is that vehicles with engines that generate lower horsepower attract significantly lower insurance premiums and cost. The Honda Fit has particularly gained prominence for being convenient, nimble, efficient and noticeable performance.
Interior
The inside of both cars is fascinating thanks to their impressive interior features. However, the 2019 Honda Fit holds an advantage over the 2019 Toyota Corolla Hatchback in terms of more cargo space, front headroom, front row headroom, shoulder room, and second-row legroom. Its spacious interior can accommodate 5 passengers conveniently. It can also take more cargo with its seats folded while the 2019 Toyota Corolla Hatch does not offer this option. The Honda is definitely the car to ride in when going on long family cruises or ferrying large volume cargo compared to the Toyota.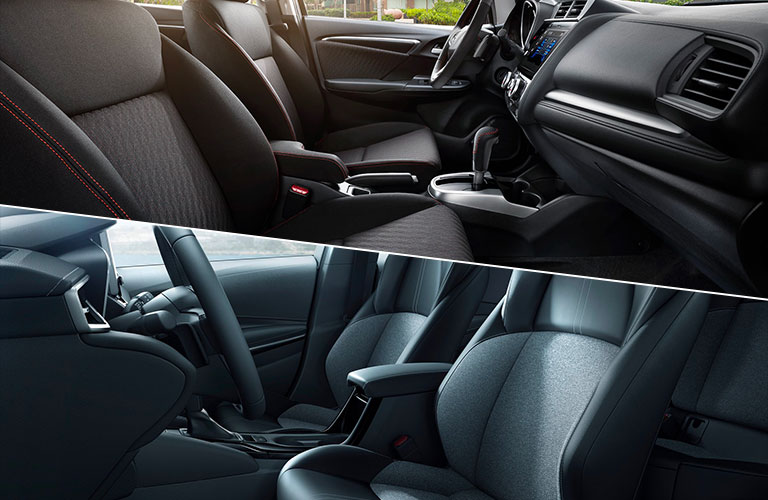 Apart from its impressive passenger and cargo versatility, the Honda Fit offers other extra interior features including 7-inch touch-screen infotainment system, SMS text messaging, Pandora, HondaLink, Android Auto, Apple CarPlay,7.0inch colored entertainment screen, Siri Eyes Free functionality, HondaLink Smartphone app integration system, voice recognition, Available navigation system, USB ports, heated front seats, leather upholstery, and rear Magic Seats. Basically, the Honda Fit is a notch ahead of the Hatchback with respect to interior prowess, passenger space, cargo space versatility convenience performance, and modern technology.
Overall comfort
The 2019 Honda Fit offers impressive overall comfort despite its moderately small size. With buyers opting for vehicles that guarantee maximum ride comfort, the Fit was specifically designed to give Chicago based consumers what they really want in a car.
The Fit has 95.7cubic-feet of interior space while the Toyota Hatchback has 84.6 cubic feet of space. Clearly, the Fit offers 11.1cubic feet more than its counterpart. The Honda Fit also offers greater headroom, legroom and shoulder room than the Hatchback.
Other notable convenience performance features found on the Fit include a 7.0-inch touchscreen with Android Auto and Apple CarPlay, Paddle shifters with sports driving mode, an optional navigation system, leather-trimmed upholstery, reversing camera, a liftgate spoiler, USB ports for phone charging, and reclining back seats. All these are aimed at providing maximum comfort to both drivers and passengers.
Safety
Both vehicles have prioritized on passenger safety in terms of offering standard safety features such as height-adjustable front shoulder belts, front-wheel drive, side-impact head airbags, four- wheel antilock brakes, electronic stability systems to prevent skidding, front side-impact airbags, front seatbelt pretensioners, driver and passenger frontal airbags, lane departure warning system, crash mitigating brakes,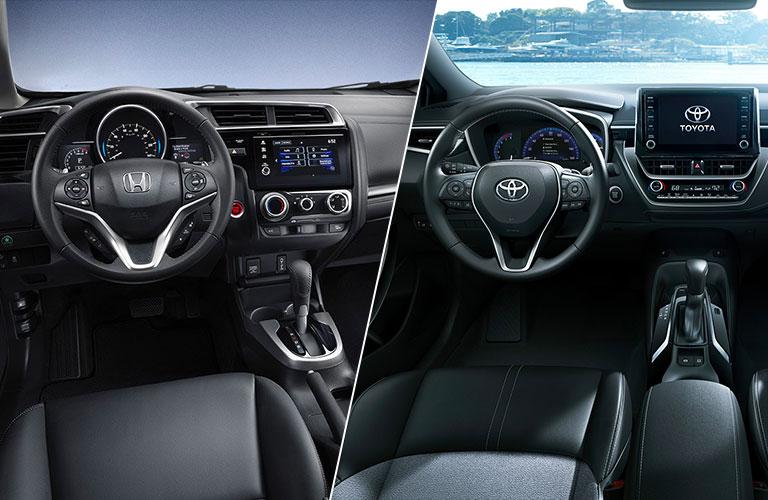 Road Departure Mitigation (RDM), daytime running lights, anti-lock disc brakes with brake assist, Collision Mitigation Braking System (CMBS), Adaptive Cruise Control (ACC), remote starting system, Vehicle Stability Assist with traction and traction control.


The Verdict
Visit Indy Honda dealership in Chicago and take the 2019 Honda Fit for a spin and you'll know why it surpasses the 2019 Toyota Corolla Hatchback in all aspects including interior quality, infotainment features, cargo space, performance, reliability and of course, safety.