The 2019 Honda HR-V and the 2019 Hyundai Kona are two compact crossover SUVs fitted with sophisticated technology features and accommodating interiors that will take your whole driving experience into the next level. Both vehicles are clearly designed for the modern car market and buyers love both of them.
Overview
The HR-V is a comprehensively updated version of the 2016 model. It comes with an attention-grabbing new front end complete with newly redesigned grille bumpers, taillights, halogen fog lights, and halogen projector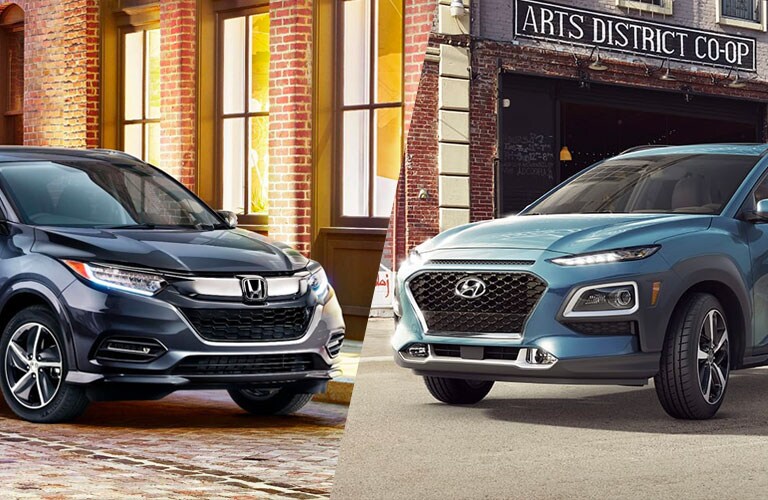 Standard technology features found inside the HR-V include a newly simplified infotainment system with Android Auto, Apple CarPlay and a physical volume knob. Other eye-catching features include an improved cup holder, a 4.2inch color LCD, steering wheel audio controls, and a soft-touch dashboard. Generally, both crossovers have a lot to offer out Chicago families.
Performance
The Honda HR-V has a 1.8-liter inline 4-cylinder engine producing 141 horsepower and 127 pound-feet of torque. This car also has other standard performance features that are not offered by the Hyundai Kona. They include the Eco Assist System and Hill start assist technology. Both cars are capable of hitting maximum acceleration when put against each other depending on who is driving. While the traditional 6-speed manual transmission has been replaced with the standard continuously-Variable Transmission(CVT), the HR-V's revised shift mapping helps to keep its rev range down during normal cruising and at the same time increasing revs when slowing down for better engine braking. Its highly responsive steering has been cleverly tweaked for better control and steadiness when driving at maximum speed.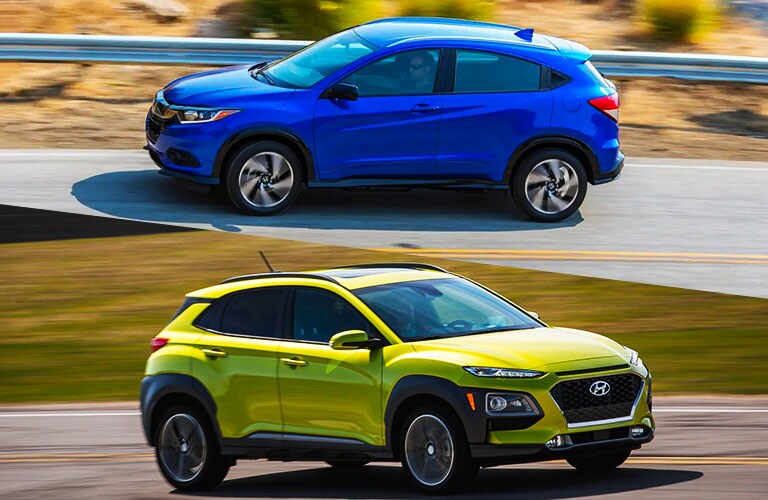 In contrast, the Kona comes in two powertrain options: a turbocharged 1.6liter inline 4- cylinder producing 175 horsepower and 195 pound-feet of torque combined with a seven- speed dual clutch automatic transmission (DCT). The second option is a 2.0liter inline 4- cylinder engine generating 147 horsepower and 132 pound-feet of torque. Both engines offer optional all-wheel drive (AWD) and a standard front-wheel drive (FWD)
Interiors
Both of the HR-V and the Kona have been designed to accommodate 5 passengers but the Honda has more to offer in terms of second-row headroom and legroom than the 2019 Hyundai. These cars have foldable seats to accommodate more cabin cargo with the HR-V having 24.3 cubic feet cargo room vs. the Kona's 19.2 cubic feet. Moving on to the rear seat, the Honda has 58.8 cubic feet against the Hyundai's 45.8 cubic feet.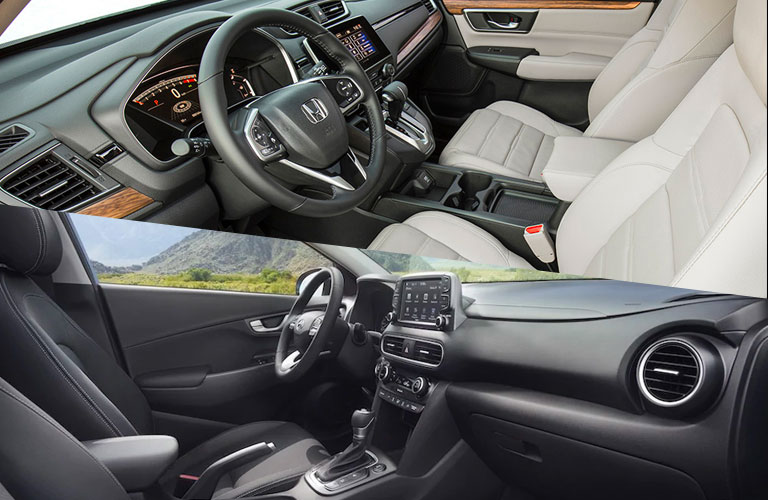 The 2019 Honda HR-V cabin features a foldable/unlockable second-row Magic seat, a 7.0inch touch screen Display, Apple CarPlay, Android Auto, elongated climate-control vent, standard 5Inch LCD screen, leather upholstery, automatic climate control, an auto- dimming rear-view mirror, and an eight-way power driver's seat. The EX trim features keyless access& start, moon roof, HD radio, rear privacy glass, single-zone automatic climate control, heated front seats, a 180-watt sound system, chrome interior accents, mirror indicators, illuminated vanity mirrors, and satellite. All these make the 2019 HR-V a more desirable option than the 2019 Hyundai Kona.
Overall Comfort
Modern buyers have a soft spot for vehicles that combine good performance, fuel efficiency, and overall comfort. As a result of this, automobile manufacturers are compelled to think outside the box to produce end products that conform to consumers' needs. In terms of comfort, the 2019 Honda HR-V offers plenty of room 24.3/58.8 cubic feet for both cargo and passengers. The Kona, on the other side, offers 19.2/45.8 cubic feet cargo and passengers alike.
Without a doubt, the HR-V's interior workmanship never disappoints with its vast wealth of convenience features that include Pandora compatibility, push-button start, Honda Satellite-linked Navigation System, Bluetooth Streaming Audio, SiriusXM radio, and HD radio among many others.
Additionally, the 2019 Honda HR-V has an 8-way power driver's seat, full LED headlights, a garage-door opener, and navigation are aimed at bringing additional levels of luxury and comfort to the ride.
Feel free to book the more comfortable 2019 Honda HR-v for a test drive at Indy Honda in Chicago.
Safety
Car Safety is of the essence to Chicago drivers. No one wants to drive a car that scores poorly in terms of safety. Fortunately, both car manufacturers paid attention to safety features in their respective models. Both models are fitted with standard safety features including adjustable front shoulder belts, electronic stability systems to prevent skidding, side-impact head airbags, driver /passenger frontal airbags, front seatbelt pretensioners, crash mitigating brakes, height traction control, daytime running lights, front wheel drive, rearview cameras, four-wheel antilock brakes, lane departure warning systems, automatic emergency braking with pedestrian detection, front side-impact airbags, driver-attention warning, rear cross-traffic detection, forward-collision warning, and all-wheel drive.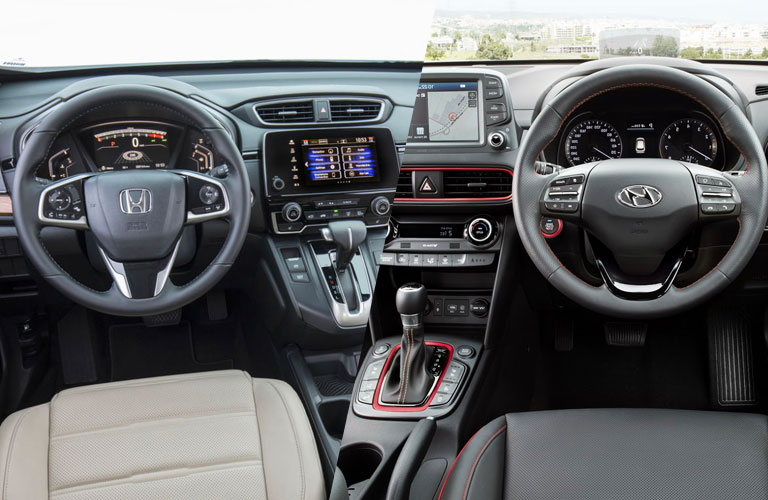 Interestingly, the HR-V brings additional levels of safety through the inclusive of Honda's Lane Watch system, automatic emergency braking, and right-side mirror mounted camera. The HR-V scored well with the
The Verdict
While both the 2019 Honda HR-v and 2019 Hyundai Kona have impressive capabilities, excellent exterior/interior features, and top performance, the 2019 Honda HR-V is the better of the two in terms of affordability, reliability, safety and overall performance.