New 2022 Honda Odyssey
For Sale Indianapolis, IN
Find the Minivan Experience You Deserve in the 2022 Honda Odyssey
Our Indianapolis Dealership can Tell You Everything You Need to Know About the Newest Honda Odyssey Models
You're a family driver, and you have a long list of needs that most new models simply can't handle. You need extra space and extra seating. You need peace of mind performance and a higher standard of safety. You want flexibility for the carpool and road trips and then the tools to help you clean up the mess that's left afterward.
In short? You need a new minivan like the 2022 Honda Odyssey.
Serving drivers all over the Indianapolis area and more, the Honda experts at Indy Honda can tell you more about everything waiting in the new Honda Odyssey.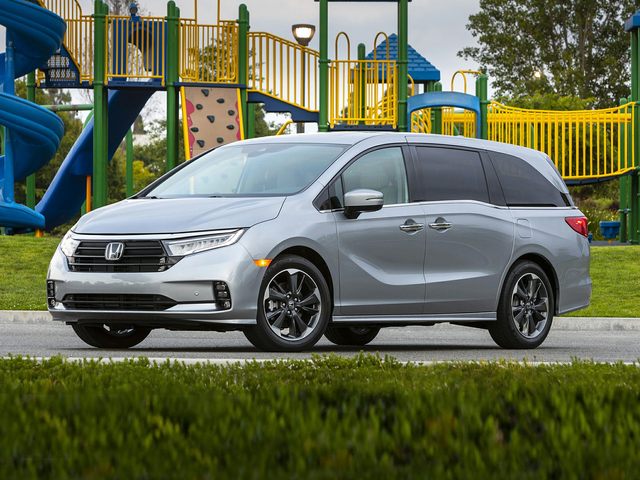 Our Indianapolis Dealership can Tell You Everything You Need to Know About the Newest Honda Odyssey Models
The new 2022 Honda Odyssey is a minivan built to service a wide array of drivers. Toward that end, the new model comes available in five different trims:
Honda Odyssey LX
Honda Odyssey EX
Honda Odyssey EX-L
Honda Odyssey Touring
Honda Odyssey Elite
The best part of the Honda Odyssey? You don't need to invest in the Elite trim to enjoy an exemplary experience. Even in its base trim form, the Honda Odyssey comes with a long list of features that run the gamut from push-button start to automatic climate control and more.
Every new Honda Odyssey also comes equipped with the Honda Sensing suite. This valuable active assistance collection comes packed to the brim with safety technologies like automatic emergency braking, lane-keeping assistance, forward collision mitigation, and adaptive cruise control.
Drivers hoping for more beyond that will find plenty of impressive options waiting in the Odyssey's higher-level trims. The Odyssey EX adds in Magic Slide seating, and the trims beyond that? They add in packages complete with everything from built-in navigation and heated/ventilate seating to media apps like Apple CarPlay/Android Auto.
The new Odyssey can even come with an in-cabin intercom! That makes it easy for the driver to chat with all of their passengers, even the ones all the way back in the Odyssey's third row of seating.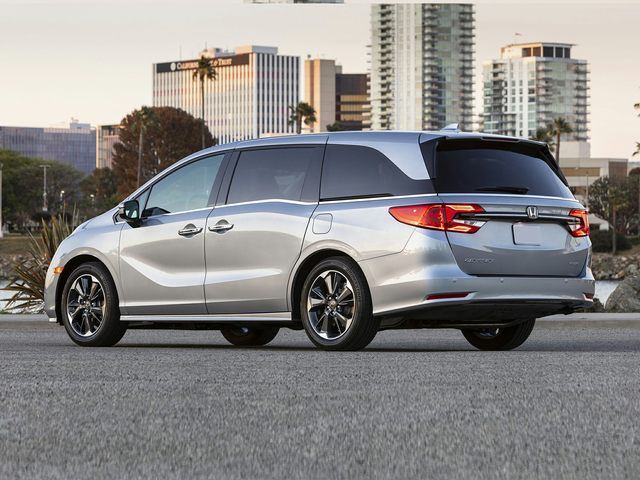 Discover the On-the-Go Versatility of Magic Slide Seating
Available starting in the EX trim up, the Magic Slide seating system is considered by many to be the crown jewel of the Odyssey experience.
With Magic Slide, the Odyssey's second-row seating is put on rails. This allows you to shift the second rows from side-to-side and even back and forth around the cabin. Magic Slide makes it easy to reconfigure your cabin as you need it, even making it easy to remove those second-row seats on a whim!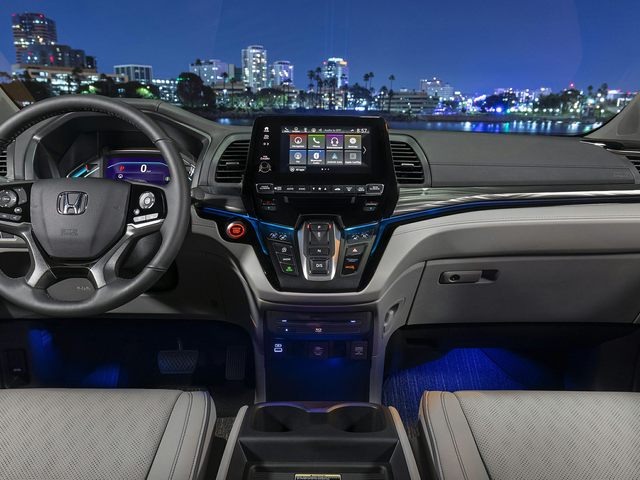 Enjoy the Benefits of Standard V6 Performance
If all of that isn't enough, the 2022 Honda Odyssey also impresses under the hood. Every new 2022 Odyssey comes equipped with a 3.5-liter V6 powertrain. This powerful engine has been rated capable of up to 280 horsepower with 262 pounds-feet of torque.
That's more than enough muscle to power through even the worst obstacles the road can throw at you. And when you pair it with the Odyssey's 10-speed automatic transmission? You'll find it's enough to deliver a smooth driving experience too!
Contact the Team at Indy Hyundai to Learn More About the New Honda Odyssey
Would you like to know more about everything on offer in the new Honda inventory at Indy Honda? Contact our sales team any time to ask questions about the new Honda Odyssey and more! We'd be happy to answer your questions and help you find the new Honda model that's right for you.