Honda Brake Repairs & Service With Indy Honda
With winter's approach to Indianapolis, it's encouraged that Indianapolis drivers ensure their vehicle's brake system is up for the challenges most likely ahead. Safety is the paramount factor to consider, especially when brakes are concerned.
At Indy Honda, we've become a trusted source for brake servicing and repairs effected by Honda professionals while you wait. This convenience demonstrates our commitment to Indianapolis drivers.
Signs Your Brakes May Need Servicing
As with most vehicle systems, an affected brake system will be telling of the need for service or repair. And should the following signs be present, it's of vital import to seek attention immediately:
A sensation of grinding when brakes are applied could signal rotors and pads denuded of proper surfacing.
Noises when applying the brakes such as squeaking or hissing might have to do with a corroded caliper.
Should undue pressure on the pedal force a response if at all, brake fluid might be leaking along fluid lines or too low in the reservoir.
How often should brakes be inspected?
Ideally, during your regular oil change is the perfect opportunity to ensure your brakes are in top form. This inspection will be conducted as your tires are rotated from well-to-well - another highly desirable procedure during an oil change.
It's then our Honda-trained technicians will pore over each comprising part looking for surfacing issues, rust and outright corrosion.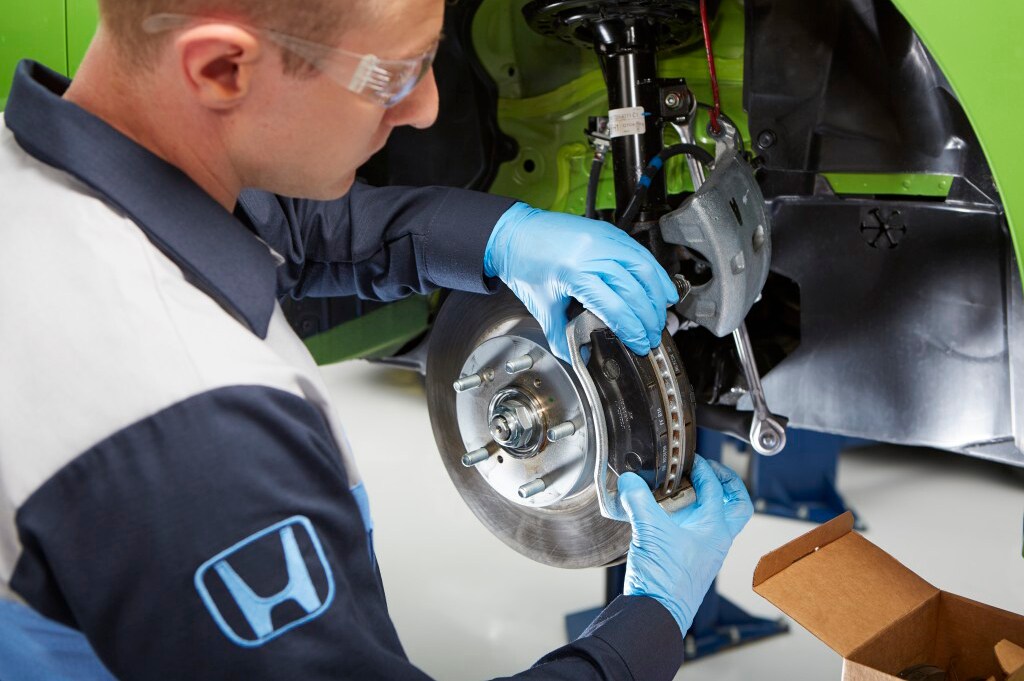 Why You Should Choose Indy Honda for Brake Repairs
As a dedicated Honda dealership, our service center adheres to all relative Honda protocols and guidelines. One such guarantee is the installation of Honda OEM (original equipment manufacturer) parts, thereby ensuring Honda warranties are not voided.
With work performed elsewhere, limited will be the attention-to-detail ultimately realized at Indy Honda by industry professionals.
Schedule Your Service Visit at Indy Honda
Afford yourself the confidence needed in your Honda model by scheduling preventive maintenance today before winter's onslaught.